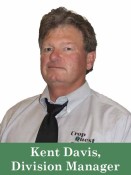 Your Crop Quest Agronomist was a little tough to get a hold of during the beginning of November.  We all attended our annual "CQIQ" (Crop Quest Information Quest) Meeting.  This year's meeting in Oklahoma City, highlighted a variety of agronomic topics, keeping us "up-to-date" on the latest innovations and research in the region.
Tuesday's general session included an informative presentation by Dr. Tom Eickhoff from Monsanto on one of the coming innovations in corn rootworm control, RNAi technology.  The current genetic technologies for rootworm control employ genetic technology related to Bt (Bacillus thuringiensis) gene events, some of which are beginning to show insect resistance in some areas.  RNAi technology appears to address rootworm resistance issues well and holds promise for many other pest control issues.
Dr. Megan Andriankaja, BASF, took us to a deeper physiological understanding of some of the factors related with maximizing yields, particularly related to corn.  She related what is happening at the cell organelle level when various inputs are limited due to weather events or input limitations   Avoiding physiological stresses, encouraging higher nutrient uptake and protecting the yield potential with timely input decisions were her main focuses.
The afternoon general session featured Matt Waits, CEO of SST Software, who highlighted many new changes occurring with our Summit Software, the program we use to create your field reports.  All of our agronomists are now outfitted with Apple iPads that include Sirrus, as part of the software component.  This addition will allow us to navigate more easily through your fields, even in-season with GPS directed imagery maps or previously developed management zones making it far easier to ground truth and document these differentiated areas.  The software will allow for picture additions to your field reports of what we're finding.  Soon to come is an interactive iPhone version for your use to access all this same information on your farm directly.
In addition, we had breakout sessions on winter canola, sugarcane aphid management research and a cotton research update.  This was just day one, but was a lot to ponder and digest.  Days two and three included a fast breakout session on emerging technologies from multiple sponsors present, sessions on strobilurin fungicides, nutrient management, manure management, closing yield gaps on corn and soybeans, fungicide use in our area, herbicide resistance, grasshopper control, and new research on nitrogen uptake on corn.  Ask your Crop Quest Consultant what new things they learned at the latest CQIQ.
Written by: Kent Davis, Johnstown, Colorado
Featured Image by: SST Software