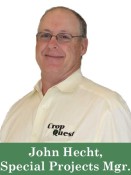 Time really flies doesn't it?  It's already 2014 and for a lot of you, corn will begin to go into the ground in 60 days.  Our producers in Uvalde, Texas are already running!
So is that planter ready for the season?  Just remember that this pass through the field will be the most important one you make all year.  It pays to make sure things are running properly.  Here are some things to think about.
Sounds simple, but check air pressure in planter tires.  Under or over inflated tires will affect rate of seed drop.
Measure wear on opening disc's and replace if needed.  You should have about 2 in. of contact at the 5 o'clock position for them to operate properly.  If opening discs have worn .75-1", they should be replaced.
Check hydraulic motors and fans for proper operation.
Blow out hoses and seed tubes.  You don't need to take spider webs and mouse nests to the field.
For those applying starter fertilizer, check manifolds and hoses for leaks and cracks.  Fertilizer corrodes and something is likely to need replacing.
Make sure planter monitors are updated prior to planting season, and updated while connected to the planter.  Updating during planting season may result in headaches and down time.
Check the on/off settings to make sure that rows turn on and off when they are supposed to and that the swath width is checked.
I've noticed a lot of videos on YouTube concerning planter operation and settings.  Take some time in an evening to look at a few, and get some ideas on what to look for and to get yourself thinking again about that planter and planting season.
My experience has been to ask growers to take the planter to the field long before planting starts and make a pass.  Even though it may start the coffee shop talking, you get a chance to make sure the planter is level and operating properly under field conditions.  It will relieve a lot less stress doing this early when there is time to adjust and fine tune as opposed to planting time when you want to be running on schedule, not finding problems and ordering replacement parts at the last minute.
Good luck and Happy Planting!!!
Written by: John Hecht, Wichita, KS
Featured Image: John Deere 16 row planter b, Terren, Wikimedia.org