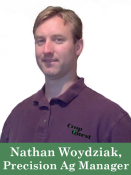 What does it mean to offer a full service agronomy package today? In addition to traditional services such as insect scouting and irrigation scheduling, precision ag services continues to become more integrated into the package. At some point, today's technology will likely no longer be viewed as "precision ag" but instead just another tool used to make sound and refined agronomic decisions.
Our mission statement reads . . . The quest of our network of professionals is to practice integrity and innovation. . . Our company founders took pride in being on the cutting edge. Crop Quest has always invested heavily in its #1 resource, the employee-owners, and we are encouraged to grow and uphold our mission. We continually search for that next piece of technology to introduce to our clients that will make a difference in their operation.
Occasionally we run across a technology that wows the masses, like UAVs, but more often than not it's the simple technologies that are adopted the quickest. Technologies easy to implement that bring immediate value seem to pass through the technology hype cycle with the least resistance.
At Crop Quest we enjoy helping our clients use technologies such as Soil EC, then figure out how they can be adopted into production practices. For twenty plus years we have worked with precision tools, and are committed to providing a comprehensive package into the future. Traditionally, agronomist have relied on spades, penetrometer and soil probes to reveal information about crops and soils. Those tools have evolved and are being augmented with technology. No matter what the tool though, we are still using common sense agronomy to make decisions based on the information at hand. We just have a lot more information available today than a decade ago, a trend that will continue into the future.
Knowing how to use precision tools for the benefit of the client is becoming increasingly important. For one thing, more clients are interested in reaping the advantages precision has to offer. So they are demanding agronomist have a better understanding of the technology. But for Crop Quest agronomists, it goes deeper and touches our company's core mission statement. If we want to be a top tier service provider, it is imperative that we continue to hone our skills to provide a full service consulting package.
We've been asked why we don't separate precision services from the consulting services. Our belief is that it's the master craftsman that can take a pile of lumber and turn it into a home. He has many different tools at his disposal and uses them when appropriate. But it's not the tools that build the home, it's the craftsman. Implementing precision tools is an important part of the process. This allows the client and agronomist to build that valuable prescription together.
We wouldn't put a hammer in the hand of an agronomist and ask him to build a home, and we wouldn't put a soil probe in the hands of a craftsman and ask him to provide agronomic advice. So it begs the question; do you want a technician or agronomist helping to make agronomic decisions?
Crop Quest Consultants visit fields routinely, giving them a decided advantage over other precision service providers. We use this in-depth field knowledge and timely scouting to design tailored prescriptions for the benefit of our clients. So when you think of a full service consulting and precision package, we hope you will visit with a Crop Quest Agronomist about how to integrate and simplify for a complete agronomic package.
Written by: Nathan Woydziak, Hoisington, KS
Featured image by: Wikimedia, Jeremy Kemp, Gartner Hyle Cycle