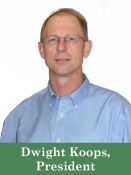 "So much has changed".  That is a phrase we hear often and in many different contexts.  It may be truer in Agriculture than in any other aspect of the world around us, including computer and personal device technology.
The pace at which agriculture industries across the nation and around the world are adopting technology is mind boggling.  Farmers are working in the cloud as much or more than any modern business that has never left the confines of the city limits.  Tractors and implements talk to iPads as they are steering themselves across the field.  Irrigation systems call cell phones in the middle of the night to alert someone about a problem.  Sensors relay information about soil moisture or growth patterns in a field to a laptop computer.   Enormous amounts of data are being collected in a multitude of ways across farm fields everywhere.
Data is the new buzz word.  It's all about data.  Decisions have always been made using the best data available.  The difference now is there is more of it, and it is available in ways not seen before.  In agriculture, data has geography associated with it.  Geography is what makes agriculture data powerful.  Knowing where something is being applied or where something is yielding a specific amount allows a producer to make decisions based on conditions in each specific area of the field.  Those areas can be any size or shape, and are referred to as data layers.  Decisions are being made based on grouping areas of a field that exhibit similar parameters or values.  These types of decisions lead to a very efficient use of inputs, reduced risk, and ultimately higher production.
From an agriculture consultant point of view, data layers bring opportunity to make decisions using better and different information than what we used to rely on.  In years gone by, an agronomist's eyes, feet and experience were the main tools of the trade.  Data collection relied heavily on intensely walking fields and making observations.  That practice will continue and will always be vital.  But utilizing data that can be collected using sensors, monitors, probes, images, etc. will become increasingly common as we move forward.  Moving information from sensor to an interpolated data layer seamlessly will allow better decisions to be made in a very timely manner.  Monitoring fields will focus on targeting areas that need attention, instead of just walking numerous random patterns in a field.  Pinpointing long range and seasonal improvements for a field will be much more focused and precise.  Resolving challenges or adapting to the limiting factors of a field will lead to more efficient decisions and planning of crop inputs.
The challenge of feeding a growing world population with limited resources on less land requires the entire agriculture industry, including consultants to adapt and stay on top of all the technologies available.  Falling behind is not an acceptable path.  Crop Quest is committed to exploring and adopting the tools available that will help producers continue to increase production, and at the same time enhance their bottom line.  Change is all around us.  We choose to embrace the future, and continue to help our valued customers thrive in this rapidly evolving world of agriculture.
Written by: Dwight Koops, Dodge City, KS
Featured Image by: DTN/The Progressive Farmer, Greg D. Horstmeier