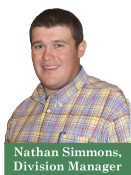 Pill bugs have become an issue in south central Kansas as we have transitioned away from tillage into no-till on our irrigated fields. Excess residue on the soil surface has created a perfect environment for pill bugs to thrive.  Pill bugs like moisture and cover, as they do not like to be exposed to direct heat and sunlight. One of the effects of Pill bugs is clipping the cotyledons off at the hypocotyl as the soybeans are emerging, which essentially kills the plant.
The best method to eliminate pill bugs from being an issue in your fields is to reduce the residue on the soil surface where pill bugs do not have the cover to survive.  However, that is not a desired option in a no-till operation anymore.
Here are a few ideas we have found that will help you minimize the damage caused from pill bugs in a no-till environment.  First, use the highest labeled rate of insecticide seed treatment. Plant your soybeans so you can use your residue managers and make a black strip where the pill bugs do not want to be. Applying a fairly high rate of chlorpyrifos through the pivot may work to limit damage. All of these above mentioned practices will not eliminate pill bugs, but should allow you to get your no-till soybeans up and going with minimal damage from the pill bugs.
Contact your Crop Quest Agronomist to find the best management method for your operation.
Written by: Nathan Simmons; Hesston, KS
Featured Image by: Pill Bug 051, John, Flickr.com