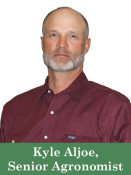 Cotton is unique to many other row crops traditionally grown in the US.  While cotton is ordinarily a perennial, it is commercially grown as an annual in the US.  With its indeterminate nature, cotton continues to produce new foliage even after it creates a seed.  Even though vegetative growth is necessary to support reproductive growth, if vegetative growth gets out of hand as the cotton moves into a reproductive state, it can be detrimental to the yield and quality of the crop.
Cotton is reputable for its extreme responsiveness to management and changes during the growing season.  The crop has a vigorous growth response to weather conditions, soil texture, fertility, and irrigation.  This in turn creates a challenge to maintain the cotton from becoming too tall and rank.
Many producers commonly use plant growth regulators (PGRs) to slow the cotton's vegetative growth rate while enhancing the plant's reproductive state. This results in early fruit set and maturity.  If early fruit set does not happen, the plant will resume a vigorous vegetative growth rate.  Managing the cotton from becoming overly vegetative helps control plant height, shorten internodes, and improve boll and square retention.  These factors are not only essential for higher yields, but also higher quality, which increases the value of the crop significantly.
The effects of several growth elements should be considered when determining an optimum PGR use rate and timing of application.  Variety, field history, soil fertility, and irrigation are some of the variables that determine the likelihood of excess growth.
Timing is crucial on the effectiveness of PGR applications, as it will only affect new growth.  Smaller plants at first-square are more receptive to PGRs than larger plants in the bloom stage that have already begun to cease vegetative growth.
Application rate decisions should be made on a field by field basis to assess current growth across the field.  Pin-pointing areas of excessive growth can be difficult to determine from the ground.  Crop Health Imagery can assist by more precisely defining growth zones by generating Normalized Difference Vegetative Index (NDVI) maps that can be used to create variable rate PGR prescription maps.  Variably applying PGRs is a great alternative to "blanket spraying" an entire field at one rate.  A variable rate prescription map allows us to treat areas of more growth with a higher dose, and areas of the field with less growth with a lower dose, or no chemical at all.
Finding a balance between vegetative and reproductive growth is an important and time sensitive process.  Together PGRs and satellite imagery can be used as management tools to improve overall yield and quality in your cotton fields.  Visit with your Crop Quest Agronomist to evaluate growth levels across your cotton fields, and to order satellite imagery to determine proper rates of PGR's across your fields.
Featuring: Kyle Aljoe, Dimmitt, TX
Featured photo by: Kimberlykv's photostream, Cotton Harvest, Flickr.com