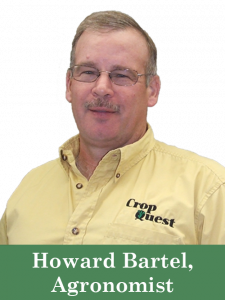 Cotton is traditionally found in southern states of our trade area such has Texas and Oklahoma. Recently it has been moving north into non-conventional areas, with continued low grain prices. If you're adventuring into cotton, Crop Quest is here to help.  We have a network of Crop Consultants across the high plains with a lot of cotton coverage.
Cotton is a tropical tree adapted and raised as an annual fiber crop. Due to this, farming cotton has a lot more "art" in it than most crops. Fertility is unique to cotton.
Too much nitrogen can be bad, too little can be the same. Nitrogen is needed for yield, but too much nitrogen leads to excessive growth and delayed maturity. For northern areas this is fatal.  In central Oklahoma, the goal is to run out of nitrogen toward the end of August. The goal is to have mature bolls ahead of a freeze in the fall.
Potash is much more important in cotton than in other crops. Potash uptake is higher than nitrogen uptake during the vital boll fill period. Low Potash will also delay maturity of cotton, which leads to quality issues
Cotton needs warm soil to germinate. Do not allow chilling injury to seeds. When cotton is germinating, soil solution temperatures below 50 degrees can damage the plant for the entire season. I suggest you plant cotton at 60 degrees or more soil temp with a favorable five day forecast. I have often seen cotton that was planted two weeks later under optimum conditions, outperform early planted cotton that sat in cold rain as it tried to emerge.  Do not chase moisture down with the planter.
Plant one-inch deep in good moisture. I have failed too many times planting cotton one-and-a-half inches deep or more. When planting, use a measuring stick— it is easy to think you are planting one-inch deep, when it is usually closer to two inches. Consider a two or three cell hill drop plate to allow seedlings to help each other up in crusting – doubles in cotton are not a problem, but four to ten-foot skips down the row are.
Start clean and stay clean. Do not totally rely on new traits to keep your cotton crop clean.  Multiple layers of residual herbicides are preferred. Custom harvesters will not harvest a weedy field.  Pickers can handle a few weeds, strippers can handle none.  You can't let weeds go.  Hoe hands are coming back into cotton fields, as are hooded sprayers.  With residuals, you must also be aware of soil type and potential injury to cotton.  Good herbicide advice is necessary, as every field is different.
Be aware of early season insects. With cotton the goal is heavy fruit set early, and there are plenty of insects that love a swig of small square juice. Be aggressive on early season insects; but after bloom try to avoid applications of insecticide if possible. In cotton, any insecticide application is weighed against potential to flare other insects later in the season. However, if you have corn nearby you need to watch for late season insects moving out of maturing corn.
Plant growth regulators are commonly used in cotton. Rates and timing are the subject of many phone calls we receive as an Crop Consultants A heavy fruit load is the best growth regulator; and correctly setting the cotton plants up early can avoid difficulty getting the crop to mature in the fall.
This all sounds challenging, but cotton can be a fun crop to raise, and a "snowbank" of cotton in the fall is a beautiful sight to see. Hearing the rumble of a heavy cotton crop going up the air chute in a stripper or picker is unique to this crop. Challenges in cotton are great, but the profit potential is still there in some pretty tough times in agriculture right now. Find a good network with experience in cotton, and have some fun growing this crop.
Written by: Howard Bartel, Agronomist – Enid, OK Division
Featured Image: Flickr.com, Kimberly Vardeman, Cotton Harvest