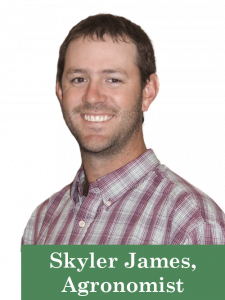 There is some difference of opinion as to what constitutes small irrigation wells and being a relative term is open for interpretation.  However, anytime the capacity of irrigation is unable to match the crop's evapotranspiration rate, challenges of a small well are apparent.
Some strategies for maximizing water use and reducing risk with small wells include:
Minimizing tillage
Population management
Crop rotation
Hybrid selection
Staggering planting dates
Off-season irrigation
Modifying irrigation equipment
Or a combination of the aforementioned
Minimizing tillage helps conserve moisture by leaving residue to protect the ground and reduce evaporation. Population management includes matching population to irrigation capacity, or using variable rate seed prescriptions to put higher populations in areas where water holding capacity of the soil is higher and infiltration rates are good vs areas that tend to stay drier, or soils that don't hold as much water.
Another strategy is to plant part of the field at a fully irrigated rate and the other part to something closer to a dryland rate – with the idea that when things get dry, the fully irrigated side will take priority.
Crop rotations often include two or more crops with peak water use at different times to allow the most efficient use of water out of each irrigation, even though there will likely be some drought stress at less critical times.
If planting the whole pivot to the same crop, staggering plant dates and/or using two different daylength hybrids spread the periods of critical irrigation out to allow the water to be in the right part of the field at the most important time.  Selecting more drought tolerant hybrids can help manage yield loss due to stress.
Off season or pre-irrigation stores moisture in the soil for use later in the season when the crop's demand outpaces the wells capability. Improving irrigation technology can improve efficiency of the available water. Monitoring soil moisture is also important, and is often used more for knowing where to water than when.
In conclusion, irrigating with small wells requires some planning to be the most effective.  By incorporating some of these strategies as well as others, farmers can make the most efficient use of available water.
Written by: Skyler James, Agronomist – Garden City, KS Division
Featured Image: Flickr – Soil Science
---
Water Meter Log makes tracking water allocations easy over your entire operation.
Data is kept private for your record keeping only.



Other Water Management Services can be found here.