Steam.  We use it to iron clothes, cook vegetables, and clean surfaces, and now there is a new machine enabling a farmer to use steam for baling hay, called the DewPoint 6110.
The DewPoint 6110 is one of the first of its kind, manufactured by Staheli West, Inc. out of Utah.  This machine is pulled behind the tractor, in front of the baler, to inject steam into the windrow.  It allows a grower to retain more of the leaves when he is baling, and gives a longer baling window allowing the producer to bale all day.
Some Crop Quest customers are beginning to use this device and are having success with it.  Bruce Seiler, farmer in the Sedgwick, Kansas area states he has seen several advantages to using the DewPoint 6110.  "It opens up the baling window and allows me to bale most of the day.  I can bale when the dew is right, and then adjust my steam as conditions start to dry and keep going" Seiler states.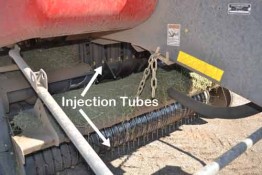 The steam is injected into the windrow as it is being picked up by the baler where there is a row of injection tubes on top of the windrow and below the windrow, and two more in front of the charge chamber.  Depending on conditions, the steam flow can be adjusted to put more on the top or the bottom of the windrow or total amount can also be adjusted.  The most moisture that can be added is 2%.  Steam instantly rehydrates the hay without making it wet.
Seiler emphasizes, "By allowing me a longer baling window in which to get my work done, I'm now able to run with one less baler.  I can get more done with less equipment. This is another advantage that I see!"
"I'm also picking up all of the leaves and not leaving them in the field," he explained.  "You can see that in the bales we make.  We also have more consistent bale moisture.  It is great to be able to make dairy quality hay all day long."
Another grower using the DewPoint 6110 is the Ute Mountain Ute Farm in Towaoc, Colorado.  Vaughn Cook, who is the farm operations manager, has done some comparisons with their new system as compared to the standard system they use.
"When we compared bales from the steamed bale and the old system, we are putting 70 lbs. more hay in the bale," Cook explained.  "We also compared hay tests and have found that we're gaining up to 10 points on relative feed value (RFV) due to more leaf retention," Cook says.  "If nothing else, the hay is noticeably greener and leafier, which is something the buyer really likes to see," Cook says.
Share your story with us – what new technologies are you having favorable results with?  E-mail us at office@cropquest.com.
Featuring: Bruce Seiler, Sedgwick, KS & Vaughn Cook, Towaoc, CO