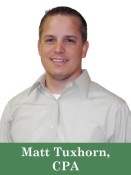 **Update for December 17, 2014 – The Tax Extenders Bill (H.R. 5771), which was passed by the House on December 3, 2014, was voted on and passed the Senate on December 16, 2014.
This bill retroactively reinstates the limit on Section 179 to $500,000 and reinstates the 50% Bonus Depreciation deduction.
It is important to note that this bill does NOT cover the tax year 2015. To make sure you take advantage of this provision you must make your qualifying purchases before midnight on December 31, 2014.
See below for original article.
With the ups and downs that we have experienced in the commodities markets, as well as the sun setting of major tax deductions in 2014, I believe it is of upmost importance that you visit with your tax professional for tax planning.
**Updated above.
Section 179 Deduction *. With the strike of the clock on January 1, 2014 your ability to "write-off" certain new or used section 179 depreciable assets went from $500,000 to $25,000. This massive reduction in the 2014 tax year may have a significant impact on those who were used to using the section 179 deduction for many items. Twenty-five thousand dollars won't even cover the cost off a good, used pickup!!
50% Bonus Depreciation *. In addition to the reduction of the section 179 deduction, we also lost the 50% bonus deprecation election on new assets that were put into service in 2014.
*It is important to note that the Senate may or may not extend bonus depreciation or increase the section 179 deduction limits for 2014. The House passed a tax extenders bill that would restore section 179 and bonus depreciation back to their higher limits. Be on the lookout for the Senate to pass this sometime late-December 2014, or possibly January 2015.
Managing Commodity Sales. With cattle prices continuing to close at record breaking prices and grain prices at multi year lows, it is important to know how sending your cattle to auction or selling your grain will affect your overall tax picture. Grain producers have a great tool at their disposal in the form of deferred payment contracts. These allow producers the opportunity to effectively manage the year's taxable income. This might be a great tax planning tool in 2014 by deferring income from grain sale into 2015 to offset profits taken in 2014 from selling cattle at auction.
Prepaying Expenses. Another tax planning tool is the ability to prepay for inputs needed in the coming tax year. This would be a great way to offset any profits taken in 2014 from 2013 contract sales.
As with any sound financial decision, it is best to talk with your local tax professional to decide the best course of action for your operation.
Written by: Matthew A. Tuxhorn, CPA, CGMA
Featured image by: Chris Potter, flickr.com, Finance, Personal Income Taxes Ver8