UAS, Aerial & Satellite Imagery
---
Why Innovators are Considering Imagery
Field Imagery, when viewed strictly as a "pretty picture" has been a stumbling block to producers for over a decade. However, major advancements in platforms and cameras are causing a tremendous interest in imagery. The time to extract value from those "pretty pictures" is here. Imagery technologies continue to advance, strengthening the return on your investment by opening doors to improving efficiency and protect your crop.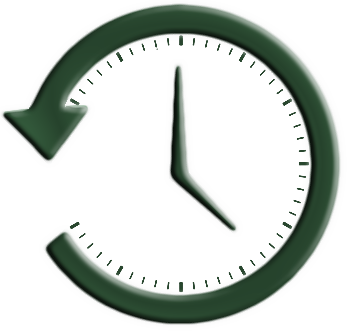 Can Imagery Save Time?
Consider this. At key points throughout the growing season, you receive an imagery brief. Flipping through the images, you notice irrigation problems, pest damage, application skips, and recent storm damage. Some issues come as no surprise. . . Other problems stand out that you had no clue existed. Seeing the magnitude of the problem, acres affected, helps decide what actions to take.
After going through the imagery brief, you have quickly assessed the condition of each field on the farm. One glance, and the images can validate previous decisions related to pesticide applications, nozzle packages, or variable applied products such as growth regulators or plant populations. Should a new problem develop, you are alerted because the entire field is being monitored at key times throughout the growing season.
In just a few minutes, you are able to explore every acre of your farm. You know where to target action, you know how things are progressing, and you know what to expect as harvest approaches.
Imagery Platforms (Satellite, Manned, Unmanned)
Satellites 
are the most traditional imagery platforms. Where timeliness and resolution are not as critical, satellite imagery is a preferred source. Satellite imagery is cost effective due to broad scale coverage; but the satellite owner controls when the image is taken, and the frequency. A historical library of imagery is available from previous seasons as well. Currently satellite imagery can be delivered approximately once a month throughout the growing season, barring cloud cover.
Aerial
or manned aircraft can be flown on a schedule or a per order basis. Aircrafts such as a Cessna are typically used to manage a large number of acres where higher resolution is desired.
Unmanned Aerial Systems (UAS)
– commonly known as UAVs (Unmanned Aerial Vehicles), ag drones, or copters – have been increasing in popularity. The enhanced platforms and cameras have enabled flexible acquisition timing and improved imagery resolution. FAA certified remote pilots in command are on staff to serve your UAV needs.
What is the Best Imagery Source?
Image processing companies will tell you, and Crop Quest agrees, the platform for collecting an image is not important.
Knowing when to make use of the various platforms to get the desired quality is valuable. The platform used to collect the image affects the detail and timeliness of the image. We provide access to imagery collected from three platforms to provide high quality imagery of various resolutions at key times. This enables us to focus attention on putting imagery to work for the benefit of the producer, and allow the pilots and satellite providers to focus on what they do best – collecting images in a timely manner.
Our program is based on satellite imagery that can be supplemented with aerial or UAS imagery collection services when needed. We have designed our service for those who desire a turnkey solution. It really is as easy as giving us a list of fields and selecting the timing and frequency of the images you desire. Let us prove it by sending you imagery on a field. Visit ViewMyField for a free trial.
We recognize that some producers prefer to purchase a UAS and to pilot and collect field images on their own. We are able to accommodate you as well by:
Hosting UAS training

Sharing flight experiences

Recommending UAS platforms

Designing agronomic services that turn "pretty pictures" into actionable imagery
Imagery Network
We've screened dozens of UAS, Aerial, and Satellite imagery providers to create an imagery network, second to none. We've joined forces with organizations that have expertise in collection, processing, and delivery to provide services that are easily accessible and secure. By pooling resources with organizations like Satshot , AgPixel , and SST, we're focusing on what is important – the image. This network gives us the ability to offer services beyond those of single platform providers.
Crop Quest's team of consultants evaluate every image. When you point to the red spot on an image and ask the questions, "What's going on here?" and "What can I do about it?" you can be confident the advice is coming from independent crop consultants. Our combined centuries of field experience is unmatched. We work daily with growers to deliver easy to follow advice because we know the importance of timely crop protection, seed, and fertility recommendations.
2 Advantages of a UAS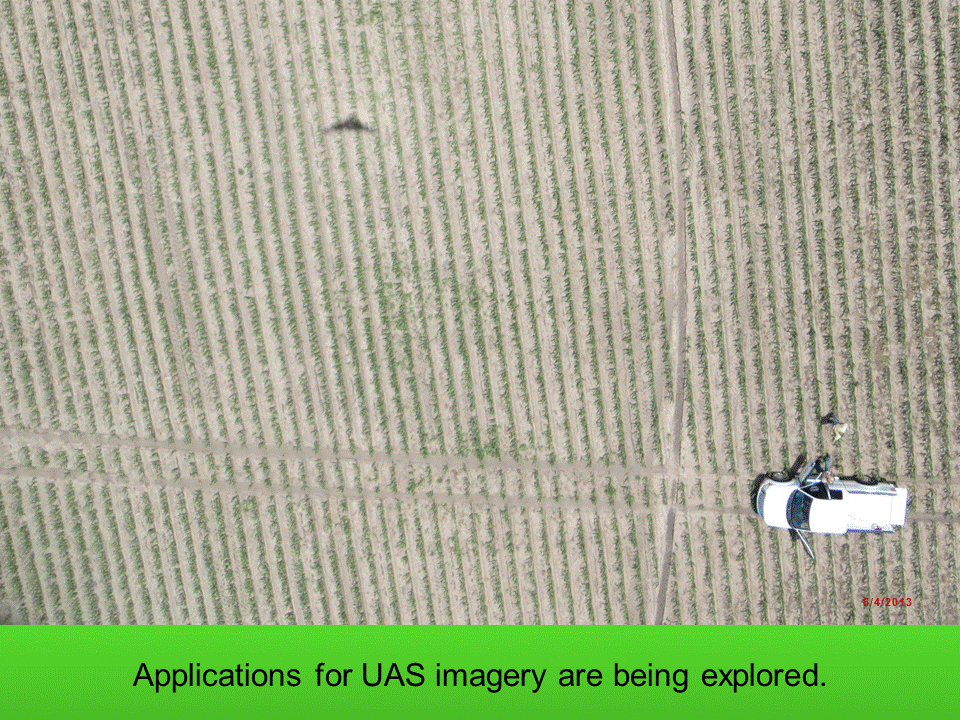 1) Temporal Resolution (Timing)
In 2012 Crop Quest began an R&D project to explore incorporating UAS (unmanned aerial systems, including copters and drones) into our crop consulting services. One of the issues we hoped UAS would allow us to improve on was acquisition timing.
A UAS gives the operator flexibility in the acquisition timing. The idea of fast-food imagery, drive up to the field capture the shots and drive off, has obvious appeal. The additional control over when an image is taken adds value; especially in agriculture where timing is a key element. Considering crop protection and variable rate growth regulator applications, both are time sensitive examples. Apply to early and you don't get the residual benefits, apply to late and you risk yield loss. The improved temporal resolution a UAS can provide was one of the advantages we recognized immediately.
2) Spatial Resolution (Detail)
The second advantage we recognized was the spatial resolution. This is basically the amount of detail you can see in an image. A high resolution satellite image might be in that 2-5 meter range. An aerial image captured with a cesna might be in the 0.5 meter range. An image captured with a UAS can be in the centimeter range. This high resolution results in some huge file sizes that create issues of their own. However, the images are stunningly detailed and we have only begun to explore how they can be implemented. An excellent example would be a whole field stand count; that may bring some value to a replant situation.

NDVI - Seeing What the Unaided Eye Can Not
The NDVI image is valuable because it makes the differences between good and bad areas of a field or plant stand out. It relies on a wavelength (NIR) outside that measured by normal cameras or the human eye allowing us to detect crop stress sooner. The earlier we can detect the crop stress, the better chance of protecting the crop and improving yield.
NDVI is the abbreviation for the Normalized Difference Vegetation Index, and is a calculation of the ratio of the reflectance of visible (VIS) and near-infrared (NIR) light.
NDVI = (NIR – VIS) / (NIR + VIS)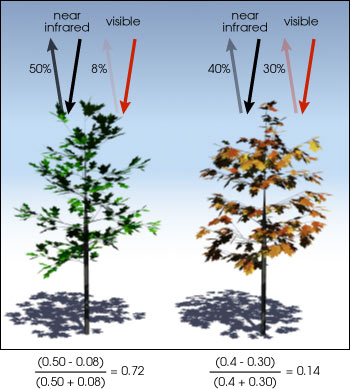 Illustration by Robert Simmon
The higher the amount of green vegetation the higher the NDVI number. NDVI numbers range between -1 and 1. Values close to -1 represent deep water. Values close to 0 correspond with bare earth. Values closer to 1 correspond to dense healthy vegetation.

Seeing the World through the Aid of NDVI

A field as viewed through our eyes.

The same field viewed as an NDVI.
Stunted Corn caused by Symphylans or Nematodes; The Jury is Still Undecided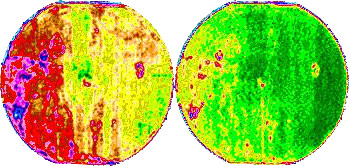 NDVI from June 28 (left) and July 12 (right) showing variation in crop development.
A lag in corn development on the West side of this field was observed in early imagery. Upon ground truthing that area
symphylans
were observed and documented. The damage was consistent with other infestations found in the region.
Further investigation indicated that while the symphylans likely caused damage, nematodes may also be weakening the plants defenses.
It was known that parts of that field had stunting issues, but the imagery gave a quick concise view of the extent of the area; which was more substantial than initially estimated from the ground. The NDVI image is valuable because it makes the differences between good and bad areas of a field or plant stand out. The earlier we can detect the crop stress, the better the chance of protecting the crop and improving yield. In this case an insecticide application at planting is being considered for the following season.
In the second image the canopy is filling in and the result is less NDVI variation across the field. This is consistent with the weekly observations of the local agronomist.
It's worth noting that this field had a very staggered emergence due to spring weather conditions, which probably masked some of the variation across the field. The dark green area on the East side is a different variety.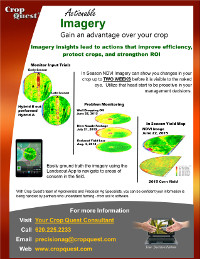 Imagery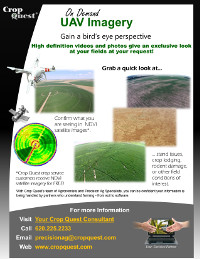 UAV Imagery