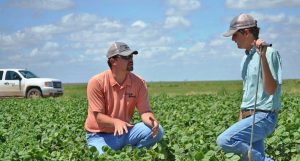 Crop Quest Interns work directly with Crop Quest Agronomists during the growing season to gain hands-on crop production experience as a crop consultant. Internships typically begin mid-May and last through mid-August at a competitive wage. Upon completion of your bachelor's degree, Crop Quest Interns are given priority for full-time agronomist positions as they become available.
Several times each year, Crop Quest recruiters visit college campuses to conduct interviews for summer internships and full-time employment positions with the company.
Internships are available annually throughout our territory in Kansas, Oklahoma, Texas, New Mexico, Colorado and Nebraska. Internships may also be available within our other service areas.
If you would like to be considered for a 2015 summer internship, please see our available locations here or email a current résumé and cover letter outlining your qualifications to: